Pietro Germi
14.09.1914, Genova, Italy - 05.12.1974, Rome, Italy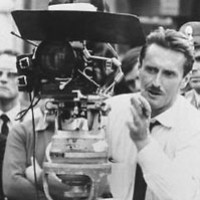 Germi is an Italian screenwriter and director. For a brief time he attended the Nautical Institute before choosing to become an actor. He studied acting and directing at the Roman
Centro Sperimentale di Cinematografia
, and during his studies earned money by working as an extra, assistant director and occasionally screenwriter. He made his directing debut with the film
The Testimony
(Il testimone, 1946), which together with his later films makes up his early neorealist creative phase characterized by social dramas oriented to the daily problems of Sicilians. Other films from that period include
Lost Youth
(Gioventů perduta, 1947),
In the Name of the Law
(In nome della legge, 1949),
The Road to Hope
(Il cammino della speranza, 1950),
Jealousy
(Gelosia, 1953),
Man of Iron
(Il ferroviere, 1956). He made the crime dramas
Four Ways Out
(La cittŕ si difende, 1951) that won the award for Best Italian Film in Venice in 1951 and
The Facts of Murder
(Un maledetto imbroglio, 1959). His second creative phase is characterized by satirical comedies also dealing with Sicilians. The first film from that period iz
Divorce - Italian Style
(Divorzio all'italiana, 1961) that achieved international success and won the award for Best Comedy in Cannes in 1962. His later films include the acclaimed
Seduced and Abandoned
(Sedotta e abbandonata, 1964),
The Birds, the Bees and the Italians
(Signore & signori, 1966) and his last four films
Too Much for One Man
(L'immorale, 1967),
Serafino
(1969),
A Pocketful of Chestnuts
(Le castagne sono buone, 1970) and
Alfredo, Alfredo
(1972). He was forced to leave his last project
Amici miei
(1975) unfinished due to an illness from which he died in late 1974.