Elia Kazan
07.09.1909, Constantinople, Turkey - 28.09.2003, New York, USA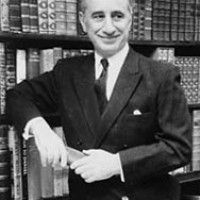 Kazan was a theatre and film director and producer. He was born to a Greek family in Turkey. They immigrated to the USA when Elia Kazan (Ýlyas Kazancýođlu, in Turkish) was only four years old. He went to school in New York. After graduating from Williams College, he studied drama at Yale. During the 1930s he was a theatre actor in Lee Strasberg's group (the leftist
Group Theatre Company
) that specialized in Konstantin Stanislavski's acting methods. In 1947, together with Cheryl Crawford and Robert Lewis, he founded the world famous
Actor\'s Studio
, from which emerged some of the most iconic actors of all time: James Dean, Marlon Brando, Montgomery Clift, Anthony Perkins, Paul Newman, Dustin Hoffman, Robert De Niro, Al Pacino and many others. He began directing theatre plays in 1935. He was very successful and won three
Tony
awards for Best Director (in 1947 for Arthur Miller's
All My Sons
; in 1949 also for Miller's play
Death of a Salesman
and in 1959 for Archibald Macleish's
J.B.
). His other important theater plays include
A Streetcar Named Desire
(1951) and
Cat on a Hot Tin Roof
(1955). He made his feature film debut
A Tree Grows in Brooklyn
in 1945. Afterwards he made
The Sea of Grass
(1947) with Katharine Hepburn and Spencer Tracy and
Boomerang!
(1947), based on a true story. For his films
Gentleman's Agreement
(1947) and
On the Waterfront
(1954) he won Oscars for Best Director. Less celebrated was his film about racism,
Pinky
(1949). After the film
Panic in the Streets
(1950), he directed the film adaptation of Tennessee Williams'
A Streetcar Named Desire
(1951) starring Marlon Brando, Vivien Leigh and Kim Hunter, which achieved great success. He continued his collaboration with Brando in the western
Viva Zapata!
(1952) and the crime drama
On the Waterfront
(1954). The critics praised his film
East of Eden
(1955) starring the young James Dean in his first role.
Baby Doll
(1956) is another of Kazan's film adaptations of Tennessee Williams after which he made a drama about the world of media,
A Face in the Crowd
(1957), followed by
Wild River
(1960) and the romantic drama
Splendor in the Grass
(1961) starring Natalie Wood and Warren Beatty. He also wrote screenplays. For the film
America, America
(1963), which he directed, he also wrote the screenplay based on his own book, as well as for his next film
The Arrangement
(1969). The low-budget film
The Visitors
(1972), based on his son Chris's book and the film adaptation of F. Scott Fitzgerald's novel
The Last Tycoon
(1976) were his last films. In 1999, he received an Oscar for Life-time Achievement in spite of partially disgruntled audiences, thanks to his hypocritical betrayal to McCarthy's Committee for Un-American Activities in January 1951, when he ratted out eight people from the film world who were members of the Communist party, even though he himself had been one as well.
Filmography
The Last Tycoon (1976)
The Visitors (1972)
The Arrangement (1969)
America, America (1963)
Splendor in the Grass (1961)
Wild River (1960)
A Face in the Crowd (1957)
Baby Doll (1956)
East of Eden (1955)
On the Waterfront (1954)
Man on a Tightrope (1953)
Viva Zapata! (1952)
A Streetcar Named Desire (1951)
Panic in the Streets (1950)
Pinky (1949)
Gentleman's Agreement (1947)
Boomerang! (1947)
The Sea of Grass (1947)
Tree Grows in Brooklyn (1945)