Rainer Werner Fassbinder
31.05.1945, Bad Wörishofen, Bavaria, Germany - 06.10.1982, München, Germany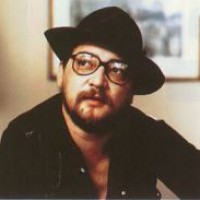 Fassbinder's childhood was from the beginning marked by movies. Since he was
seven his mother used to send him to the movies so she could translate in peace.
The beginning of his career is in theatre; in 1968 writes the first drama

Katzelmacher
. The curiosity he showed for theatre as much for film,
represents his wide range of interests and desire to cover as many subjects as
possible. Two marriages, homosexuality, and cocaine addiction (one of many)
marked his life, among many films. Along with more than 40 long movies in 14
years, he worked on TV, wrote dramas and acted, composed songs and produced. He
tried his skill in different genres; from adaptations of literary pieces and
crime stories to melodramas that can sum up the main characteristic of his work.
Under the influence of Godard's and Brecht's theories, he made the early movies,
and in a short time never exceeding a budget in order to pass onto new projects
as soon as possible. Searching for a broader public he turns to the model of
American melodrama – especially films of Douglas Sirk. A movie
Ali: Fear Eats
the Soul
brings him a prize of the critics in Cannes and represents the
beginning of a greater interest for his movies. Finally,
The Marriage of
Maria Braun
  brings to Fassbinder the success in his homeland, where
until then he had been more famous for his TV-work. In 1980 he makes the famous
TV-series
Berlin Alexanderplatz
.
Filmography
Querelle (1982)
Die Sehnsucht der Veronika Voss (1982)
Lola (1981)
Theater in Trance (1981) (documentary)
Lili Marleen (1981)
Berlin-Alexanderplatz (1980) (mini TV series)
Die Dritte Generation (1979)
Die Ehe der Maria Braun (1979)
Deutschland im Herbst (1978)
In einem Jahr mit 13 Monden (1978)
Despair (1978)
Bolwieser (1977) (TV)
Frauen in New York (1977) (TV)
Satansbraten (1976)
Chinesisches Roulette (1976)
Ich will doch nur, daß ihr mich liebt (1976)
Angst vor der Angst (1975) (TV)
Mutter Küsters Fahrt zum Himmel (1975)
Faustrecht der Freiheit (1975)
Wie ein Vogel auf dem Draht (1975) (TV)
Welt am Draht (1974) (TV)
Effi Briest (1974)
Angst essen Seele auf (1974)
Martha (1973) (TV)
Nora Helmer (1973) (TV)
Wildwechsel (1972) (TV)
Bremer Freiheit (1972) (TV)
Acht Stunden sind kein Tag (1972) (mini TV series)
Die Bitteren Tränen der Petra von Kant (1972)
Der Händler der vier Jahreszeiten (1972)
Whity (1971)
Warnung vor einer heiligen Nutte (1971)
Pioniere in Ingolstadt (1971) (TV)
Rio das Mortes (1971) (TV)
Die Niklashauser Fahrt (1970) (TV)
Der Amerikanische Soldat (1970)
Warum läuft Herr R. Amok? (1970)
Das Kaffeehaus (1970) (TV)
Götter der Pest (1970)
Katzelmacher (1969)
Liebe ist kälter als der Tod (1969)
Das Kleine Chaos (1966) (short film)
Der Stadtstreicher (1966) (short film)