Claire Denis
21.04.1948, Paris, France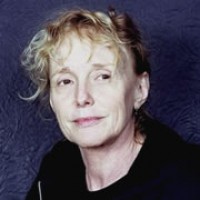 Director and screenwriter of specific style and one of the most important authors of contemporary French film. Although born in Paris, as a daughter of a public official, Denis has spent most of her child years and youth up to the age of fourteen in different countries in Africa. After that, she returned to a French suburb with her mother and younger sister, and continued her education. However, the time spent in former French colonies left a clearly visible trace in her films. At first, she studied economics, but then realized it wasn\'t for her. Encouraged by her husband, she enrolled in the Paris film school
IDHEC
(
L\'Institut des hautes études cinématographiques
), today known as
La Fémis
. After graduation in 1971, her first experiences on film sets were working as an assistant to directors such as Dušan Makavejev (
Sweet Movie
, 1974), Robera Enrico (
Le vieux fusil
, 1975), Costa-Gavras (
Hanna K.
, 1983), Wim Wenders (
Paris, Texas
, 1984;
Wings of Desire
(Der Himmel über Berlin), 1987), Jim Jarmusch (
Down by Law
, 1986) and many others. She made her debut as a screenwriter and director in 1988 with the film
Chocolat
. For her first film, inspired by her childhood in Africa, she received acclaim from critics and the audience, and the film was presented at the Cannes film festival. Her next film was a documentary
Man No Run
(1989) about the band Les Têtes Brulées from Cameroon and she made it during their first tour in France. Her next feature film
No Fear, No Die
(S\'en fout la mort, 1990) is a story about two men (one from Africa, and the other from the Caribbean) who are trying to survive on the edges of French society. In her short film
Keep It for Yourself
(1991) a small role was played by Vincent Gallo, with whom she will later work again. She participated in the omnibus
Contre l\'oubli
(1991), produced by Amnesty International, consisting of works of about thirty directors, in which each one advocates for a different political prisoner. After that she directed the sequel
La robe à cerceau
of the TV series
Monologues
(1993). Afterwards she made her third long feature film
J\'ai pas sommeil
(1994), which addresses the questions of immigrants and cultural, family and social problems in a multiethnic Parisian neighborhood. The film is also one of her numerous collaborations with the director of photography Agnès Godard. During her work process, Denis as an author pays more attention and spends more time on editing the material after the shooting, than to numerous repetitions of scenes during shooting on the set. Having frequently worked for television and taking part in the omnibuses, she made
US Go Home
as a part of
Tous les garçons et les filles de leur âge...
(1994), the TV series in which nine directors interpreted the topic of adolescence. In
Us Go Home
she worked with Vincent Gallo again, but also cooperated with the young Grégoire Colin for the first time. He will have bigger roles in her films to follow. For yet another omnibus in eight sections, about the French harbor town,
À propos de Nice, la suite
(1995) she made the part
Nice, Very Nice
. With Grégoire Colin as the lead, she made a story of growing up
Nénette and Boni
(Nénette et Boni, 1996). The film turned out to be one of her most successful works, which won her the Golden Leopard prize at the Swiss international film festival in Locarno in 1996. Three years later, again with Grégoire Colin, she made a drama called
Beau travail
(1999). The film, which is a free interpretation of the novella "Billy Budd, Sailor" by Herman Melville, brought her international acclaim of the audience and critics alike. After that, she ventured into the horror
Trouble Every Day
(Trouble Every Day, 2001) again starring Vincent Gallo. The music was done by the English band Tindersticks (also for her previous film
Nénette et Boni
). In most of her films, Denis uses very little dialogue, thus focusing on the music. She returned to the drama genre with
Vendredi soir
(2002). In that film, as well as in others, she is more oriented towards the motivation of characters than to the plot itself or the actions connecting them. She often finds motivation in the works of philosopher Jean-Luca Nancy, to whom she devoted the part
Vers Nancy
from the omnibus
Ten Minutes Older: The Cello
(2002), by disclosing the problems of accepting foreigners, integration and assimilation. Her next long feature film
The Intruder
(L'intrus, 2004) is based on the novel by Jean-Luca Nancy. Next came the documentary
Vers Mathilde
(2005), shot on Super-8 and Super-16 film dealing with the work of Mathilde Monnier, one of the most important French contemporary choreographers. In the drama
35 Shots of Rum
(35 rhums, 2008) she worked with Alex Descas, another of her frequent actors. Isabelle Huppert is the leading actress in the film
White Material
(White Material, 2009), in which Denis returned to her African themes and locations. After the short film
To the Devil
(2011) she made her currently last feature film
Les salauds
(2013). In addition to making films, since 2002 she has worked as a film professor at the European Graduate School (EGS) in Saas-Fee in Switzerland.
Claire Denis, the Vagabonde
Bastards
Towards Mathilde
Good Work
Against Oblivion
Chocolate
Friday Night
Towards Nancy
The Intruder
Trouble every day
35 Shots of Rum
Nénette and Boni
White material
Filmography
Les salauds (2013)
To the Devil (2011) (short film)
White Material (White Material, 2009)
35 Shots of Rum (35 rhums, 2008)
Vers Mathilde (2005) (documentary)
The Intruder (L'intrus, 2004)
Ten Minutes Older: The Cello (2002) (omnibus, part Vers Nancy)
Vendredi soir (2002)
Trouble Every Day (Trouble Every Day, 2001)
Beau travail (1999)
Nénette et Boni (1996)
À propos de Nice, la suite (1995) (part Nice, Very Nice)
Tous les garçons et les filles de leur âge... (1994) (TV series, sequel US Go Home)
J'ai pas sommeil (1994)
Boom-Boom (1994)
Monologues (1993) (TV series, sequel La robe à cerceau)
Contre l'oubli (1991) (omnibus, part Pour Ushari Ahmed Mahmoud, Soudan)
Keep It for Yourself (1991) (short film)
No Fear, No Die (S'en fout la mort, 1990)
Cinéma, de notre temps (1990) (documentary TV series, sequel Jacques Rivette - Le veilleures) (co-director)
Man No Run (1989) (documentary)
Chocolat (1988)