Éric Rohmer
04.04.1920, Nancy, France - 11.01.2010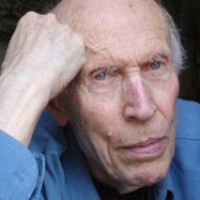 In the 1950s, Rohmer, a former film critic and historian, together with Claude Chabrol wrote a book about Hitchcock. In 1950, with Truffaut and Godard he founded the short-lived film magazine
La Gazette du Cinema
and for six years he was the chief editor of
Cahiers du Cinema
. His films are often parts of cycles:
Six contes moraux
,
Contes des quatre saisons
,
Comedies et Proverbs
. Even though he is older than other representatives of the New wave, his films are often regarded as part of this movement. His film
My Night at Maud's
(Ma nuit chez Maud) was an international success and was nominated for an Oscar. Besides intellectualism, Rohmer's films are characterized by a simplicity that sometimes achieves a complete lack of any stylistic means. This simplicity is evident in his work but his films, even though they were often made in a short time and with amateur actors, rarely leave us with any impression other than that he maintained total control over the whole. In some aspects it is not hard to compare his works with those of Bresson, even though their themes may have been utterly different. Rohmer does not use any means of attention grabbing such as violence, surprising camera angles or background music. Even in these decisions it is possible to recognize a mind that intensively thinks about the consequences of the film on viewers; even though such thinking is at the first glance something that should be innate to all directors since Eisenstein's theory of editing, very few directors have such an approach. Rohmer believes that an artificial intention on screen can be immediately recognized and as such should be avoided. After his first film,
The Sign of Leo
(Le signe du lion, 1959), Rohmer made his first cycle:
Six contes moraux
. One of the films from this cycle,
My Night at Maud's
, is a story about an engineer who spends a night with the beautiful and divorced Maude and instead of adventure chooses a long conversation. The film seduces the viewer with its laid back tone that faithfully depicts the passage of time and points out human flaws in situations when a person has to make a choice. Rohmer's characters often say one thing and do the opposite. After this first cycle, Rohmer made two more:
Comedies et Proverbs
and
Contes des quatre saisons
. E is still an active director known for his uncompromised guarding of his privacy from the media. His other films include
Claire's Knee
(Le genou de Claire, 1970),
Love in the Afternoon
(L' amour l'aprčs-midi, 1972),
The Marquise of O
(Die Marquise von O..., 1976),
Pauline at the Beach
(Pauline ŕ la plage, 1982),
Full Moon in Paris
(Les nuits de la pleine lune, 1984).
Filmography
- L'anglaise et le duc (2001)
- Conte d'automne (1998)
- Conte d'été (1996)- Les rendez-vous de Paris (1995)
- L'arbre, le maire et la médiatheque (1993)
- Conte d'hiver (1992)
- Conte de printemps (1990)
- L'ami de mon amie (1987)
- 4 aventures de Reinette et Mirabelle (1987)
- Le rayon vert (1986)
- Les nuits de la pleine lune (1984)
- Loup y es-tu? (1983)
- Pauline a la plage (1983)
- Le beau mariage (1982)
- La femme de l'aviateur (1980)
- Perceval le Gallois (1978)
- Die Marquise von O (1976)
- L'amour l'apres-midi (1972)
- Le genou de Claire (1970)
- Ma nuit chez Maud (1969)
- Fermiere a Montfauçon (1967)
- La collectionneuse (1967)
- Une étudiante d'aujourd'hui (1966)
- Paris vu par… (1965)- Nadja a Paris (1964)
- La boulangere de Monceau (1963)
- La carriere de Suzanne (1963)
- Le signe du lion (1959)
- Véronique et son cancre (1958)
- La sonate a Kreutzer (1956)
- Bérénice (1954)
- Présentation ou Charlotte et son steak (1951)
- Journal d'un scélérat (1950)