Jean-Luc Godard
03.12.1930, Paris, France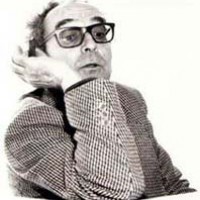 Godard is a French director, screenwriter and critic, one of the pioneers of the French New Wave. During his studies of ethnology, which he started at the Sorbonne in 1949, he met François Truffaut, Claude Chabrol, Jacques Rivette and Eric Rohmer. With Rivette and Rohmer in 1950, he founded the magazine
Gazette du cinéma
, in which he published articles under the pseudonym Lucas. In 1952, he wrote for
Les cahiers du cinéma
, but his career as a critic really began in 1956 in the magazine Arts. After his first short film,
Operration Beton
(Opération béton, 1954), he made four more, and in 1960 in collaboration with Truffaut, he made his first feature film
Breathless
(A bout de souffle), which made him famous throughout Europe. That same year, he made his film
The Little Soldier
(Le petit soldat, 1960) which was banned from screening until 1963. During his career, he made about ninety films, of which the most famous are
A Woman Is a Woman
(Une femme est une femme, 1961),
It's My Life
(Vivre sa vie: Film en douze tableaux, 1962),
Pierrot Goes Wild
(Pierrot le fou, 1965),
Two or Three Things I Know About Her
(2 ou 3 choses que je sais d'elle, 1966),
La Chinoise
(1967),
Week End
(1967),
Every Man for Himself
(Sauve qui peut (la vie), 1980),
First Name: Carmen
(Prénom: Carmen, 1983),
Hail Marie
(Je vous salue, Marie, 1983),
Détective
(1985),
New Wave
(Nouvelle vague, 1990),
In Prasie of Love
(Éloge de l'amour, 2001) and
Our Music
(Nostre musique, 2004).
Filmography
Remerciements de Jean-Luc Godard à son Prix d'honneur du cinéma suisse (2015) (omnibus)
Prix suisse, remerciements, mort ou vif (2015)
Ponts de Sarajevo (2014) (omnibus)
Khan Khanne (2014) (short)
Adieu au langage (2014)
3x3D (2013) (omnibus, segment The Three Disasters)
Film socialisme (2010)
Tribute to Éric Rohmer (2010) (short)
Une catastrophe (2008) (short)
Journal des Réalisateurs de Jean-Luc Godard (2008) (TV, short)
Reportage amateur Maquette expo (2006) (documentary)
Vrai faux passeport (2006) (dokumentary)
Ecce Homo (2006) (short)
Four Short Films (2006) (video, documentary, codirector)
Notre musique (2004)
Prières pour Refusniks (2004) (short)
Moments choisis des histoire(s) du cinéma (2004) (documentary)
Ten Minutes Older: The Cello (2002) (segment
Dans le noir du temps)
Liberty and Homeland (Liberté et patrie, 2002)
In Praise of Love (Éloge de l'amour, 2001)
Origins of the 21st Century (L' origine du XXIeme siecle, 2000)
Histoire(s) du cinéma: La monnaie de l'absolu (1998)
Histoire(s) du cinéma: Le contrôle de l'univers (1998)
Histoire(s) du cinéma: Les signes parmi nous (1998)
Histoire(s) du cinéma: Une vague nouvelle (1998)
The Old Place (1998)
Histoire(s) du cinéma: Fatale beauté (1997)
Histoire(s) du cinéma: Seul le cinéma (1997)
For Ever Mozart (1996)
Twice Fifty Years of French Cinema (Deux fois cinquante ans de cinéma français, 1995)
JLG/JLG - Self/Portrait in December (JLG/JLG - autoportrait de décembre, 1995)
The Kids Play Russian (Les Enfants jouent a la Russie, 1993)
Alas For Me (Hélas pour moi, 1993)
Against Oblivion (Contre l'oubli, 1991) (segment Pour Thomas Wainggai, Indonésie)
Germany Year 90 Nine Zero (Allemagne 90 neuf zéro, 1991)
How Are the Kids? (Comment vont les enfants, 1990) (segment L'enfance de l'art)
New Wave (Nouvelle vague, 1990)
Histoire(s) du cinéma: Toutes les histoires (1989)
Histoire(s) du cinéma: Une histoire seule (1989)
Le Rapport Darty (1989)
The French as Seen by... (Les Français vus par, 1988) (mini TV series) (segment Le dernier mot)
On s'est tous défilé (1988)
The Power of Speech (Puissance de la parole, 1988)
Keep Up Your Right (Soigne ta droite, 1987) (as Monsieur Godard)
Aria (1987) (segment Armide)
King Lear (1987)
Meetin' WA (1986)
Soft and Hard (1986)
Grandeur et décadence (1986) (TV)
Détective (1985)
Hail Marie ('Je vous salue, Marie', 1985)
Série noire (1984) TV Series
Petites notes a propos du film 'Je vous salue, Marie' (1983)
First Name: Carmen (Prénom Carmen, 1983)
Scénario du film a 'Passion' (1982)
Passion (1982)
Lettre a Freddy Buache (1981)
Every Man for Himself (Sauve qui peut (la vie), 1980)
Scénario de 'Sauve qui peut la vie' (1979)
How Is It Going? (Comment ça va?, 1978)
France/tour/detour/deux/enfants (1977) (mini TV series)
Six fois deux/Sur et sous la communication (1977) (mini TV series)
Here and Elsewhere (Ici et ailleurs, 1976)
Number Two (Numéro deux, 1975)
Letter to Jane (1972)
Just Great (Tout va bien, 1972)
One Parallel Movie (One P.M., 1972)
Struggle in Italy (Lotte in Italia, 1971)
Vladimir and Rosa (Vladimir et Rosa, 1970)
East Wind (Le vent d'est, 1970)
British Sounds (1970)
Pravda (1970)
Joy of Learning (Le gai savoir, 1969)
Love and Anger (Amore e rabbia, 1969) (segment L'Amor)
Cinétracts (1968)
A Film Like Any Other (Un film comme les autres, 1968)
Sympathy for the Devil (1968)
Week End (1967)
Far from Vietnam (Loin du Vietnam, 1967) (segment Caméra-oeil)
La Chinoise (1967)
The Oldest Profession in the World (Le plus vieux métier du monde, 1967) (segment Anticipation, ou l'amour en l'an 2000)
Two or Three Things I Know About Her (2 ou 3 choses que je sais d'elle, 1967)
Made in U.S.A. (1966)
Masculine, Feminine: In 15 Acts (Masculin, féminin: 15 faits précis, 1966)
Pierrot Goes Wild (Pierrot le fou, 1965)
Six in Paris (Paris vu par..., 1965) (segment Montparnasse-Levallois)
Alphaville, a Strange Adventure of Lemmy Caution (Alphaville, une étrange aventure de Lemmy Caution, 1965)
Reportage sur Orly (1964)
A Married Woman (Une femme mariée: Suite de fragments d'un film tourné en 1964, 1964)
The Beautiful Swindlers (Les plus belles escroqueries du monde, 1964) (segment Le Grand escroc)
The Outsiders (Bande a part, 1964)
Contempt (Le mépris, 1963)
The Soldiers (Les carabiniers, 1963)
Let's Have a Brainwash (Ro.Go.Pa.G., 1963) (segment Il Nuovo mondo)
The Little Soldier (Le petit soldat, 1963)
It's My Life (Vivre sa vie: Film en douze tableaux, 1962)
The Seven Capital Sins (Les sept péchés capitaux, 1962) (segment La Paresse)
A Woman Is a Woman (Une femme est une femme, 1961)
A Story of Water (Une histoire d'eau, 1961)
Charlotte and Her Jules (Charlotte et son Jules, 1960)
Breathless (A bout de souffle, 1960)
All the Boys Are Called Patrick (Charlotte et Véronique, ou Tous les garçons s'appellent Patrick, 1959)
Une femme coquette (1955)
Operration Beton (Opération béton, 1954)