Luchino Visconti
02.11.1906, Milan, Italy - 17.03.1976, Rome, Italy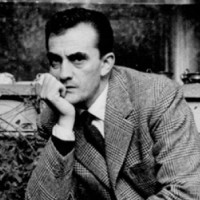 Luchino Visconti (November 2, 1906, Milan – March 17, 1976, Rome) was an Italian director and screenwriter, descending from an aristocratic Milan family. At age thirty, he moved to Paris and started to mingle in artistic circles (theatre, film). He worked as an assistant to the great Jean Renoir on his films Les bas-fonds (1936), Partie de campagne, (1936-40, unfinished), and La Tosca (1940). He made his directorial debut with the film Ossessione (1942), adapted from the novel The Postman Always Rings Twice
by J. Crain. After WW II, he worked in theatre, and in 1948 he made the film The Earth Trembles (La Terra trema, 1948), which is an important neorealist piece. From the mid 1950s until the end of his career he worked in both theatre and film. During this period, he realized many esteemed films – Bellissima (1951), Senso (1954), White Nights (Le Notte bianche, 1957), Rocco and His Brothers(Rocco e i suoi fratelli, 1960) The Leopard (Il Gattopardo, 1963), Of a Thousand Delights (Vaghe stelle dell'Orsa, 1965), The Witches (Lo Straniero, 1967) and The
Damned (La Catuda degli dei, 1969). In 1971, he made his famous film Death in Venice (Morte a Venezia). Afterwards he made the TV series Ludwig (1973) and the film Conversation Piece (Gruppo di famiglia in un interno, 1974). He died while working on his last film The Innocent (L'Innocente, 1976), which was finished by the editor Ruggero Mastroianni.
Filmography
L' Innocente (1976)
Gruppo di famiglia in un interno (1974)
Ludwig (TV-series) (1972)
Morte a Venezia (1971)
La Caduta degli dei (1969)
Lo Straniero (1967)
Le Streghe (omnibus, part: La Strega bruciata viva) (1967)
Vaghe stelle dell'Orsa (1965)
Il Gattopardo (1963)
Boccaccio 70 (omnibus, part: Il lavoro) (1962)
Rocco e i suoi fratelli (1960)
Le Notte bianche (1957)
Senso (1954)
Siamo donne (omnibus, part: Anna Magnani) (1953)
Bellissima (1951)
La Terra trema (1948)
Giorni di gloria (documentary, co-director) (1945)
Ossessione (1942)