Ante Babaja
06.10.1927, Imotski - 14.01.2010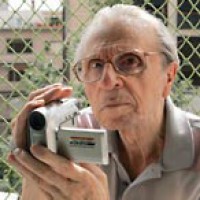 Ante Babaja, director and a screenwriter, was born in Imotski on October, 6th
1927. After high school he studied economy and law. Thanks to his friendship
with the older Branko Bauer he entered the world of film. In 1949 he worked as
the assistant to Krešo Golik on the set of his first feature film
Plavi 9,
and in 1953 as a volunteer he worked on the sets of films by famous French
directors Christian-Jaque, Yves Ciampi and Jacques Becker. In 1954 Belan hired
him as an assistant in the anthological film
Koncert
. In the following
year he directed his first film, the documentary impression
Jedan dan na
rijeci
. In 1961 he directed his first feature film
Carevo novo ruho
.
In the middle of 60's he turned to experimental film and made his
experimental-documentary films
Tijelo
(1965),
Kabina
(1966) and

Plaža
(1966). He made his most popular and famous film
Breza
, based
on a story by Kolar, in 1967. In 1971 he made
Mirisi, zlato i tamjan
,
adaptation of the novel by Slobodan Novak. Then followed a period in which he
made only documentaries (
Čuješ li me sada?
, a sequel to his classic
documentary
Čuješ li me?
from 1965).
Izgubljeni zavičaj
, from
1980, again an adaptation of a novel by Slobodan Novak, is by many regarded as
his most beautiful film. In 1992 he made
Kamenita vrata
. He was a regular
professor at the
Academy for Drama Art
in Zagreb. In 1988 he won the

Vladimir Nazor
award for a life time achievement. Eight years later he also
won Vjesnik's award
Jelen
for a life time achievement.
Filmography
Kamenita vrata (1992)
Izgubljeni zavičaj (1980)
Čuješ li me sad? (documentary) (1978)
Starice (documentary) (1976)
Čekaonica (documentary) (1975)
Basna (short) (1974)
Mirisi, zlato i tamjan (1971)
Breza (1967)
Plaža (documentary)(1966)
Kabina (documentary) (1966)
Čuješ li me? (documentary) (1965)
Tijelo (documentary) (1965)
Putokazi stoje na mjestu (short) (1964)
Ljubav (short) (1963)
Jury (short) (1962)
Pravda (short) (1962)
Carevo novo ruho (1961)
Riječka luka (documentary) (1960)
Uradi sam (documentary) (1960)
Lakat (kao takav) (short) (1959)
Opasnost pri radu u lukama (documentary) (1959)
Nesporazum (short) (1958)
Pozdravi s Jadrana (documentary) (1958)
Moj dom (documentary) (1958)
Brod (documentary) (1957)
Ogledalo (1955)
Jedan dan na rijeci (documentary) (1955)