Michelangelo Antonioni
29.09.1912, Ferrara, Italy - 30.07.2007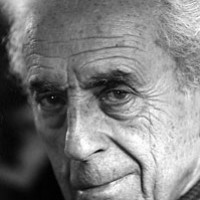 Michelangelo Antonioni, Italian director and screenwriter, was born on September 29th, 1912 in Ferrara. He graduated in Economics from the Bologna University. During his studies, he made 16 mm films and wrote film critiques in local newspapers. He decided to devote himself to film and in 1939 went to Rome,
where he attended Centro Sperimentale di Cinematografia. Also he was a collaborating editor of the magazine Cinema. In 1942 he was the co-screenwriter on the film Una pilota retorna, directed by Roberto Rossellini. In 1943 he made his directing debut with the documentary Gente del Po, which ensured him a place among the pioneers of neo-realism. He made his first feature film, Cronaca di un amore, in 1950. In the next few
years he made I vinti (1952) and La signora senza camelie (1953). By 1960 he had made Le amiche (1955) and Il grido (1957). Thanks to his tetralogy with the theme of estrangement – L'Avventura (1960), La notte (1961), L'Eclisse (1962) and Deserto rosso (1964) – he became one of the leading directors of modern film. In 1966 he made his cult film Blow-up, followed by Zabriskie Point (1970), Professione: reporter (1975) and Il Mistero di Oberwald (1980). A heart attack in the age of 85 left him partially paralyzed.
Filmography
Eros (Michelangelo Antonioni, Steven Soderbergh, Wong Kar-Wai, 2004)
Tanto per stare insieme (2001)
Il Filo pericoloso delle cose (2001)
12 registi per 12 cittŕ (documentary omnibus, part Roma) (1998)
Al di la delle nuvole (1995)
Noto, Mandorli, Vulcano, Stromboli, Carnevale (dokumentarni) (1993)
Kumbha Mela (short) (1989)
Roma '90 (short) (1989)
Identificazione di una donna (1982)
Il Mistero di Oberwald, (1980)
Professione: reporter (1975)
Chung Kuo (documentary) (1972)
Zabriskie Point (1970)
Blowup (1966)
Tre volti (documentary omnibus, part Prefazione) (1965)
Il Deserto rosso (1964)
L' Eclisse (1962)
La Notte (1960)
L' Avventura (1960)
Il Grido (1957)
Le Amiche (1955)
Uomini in piu (documentary) (1950)
L' Amore in citta (documentary omnibus, part Tentato suicido) (1953)
I Vinti (1953)
La Signora senza camelie (1953)
La Funivia del faloria (documentary) (1950)
La Villa dei mostri (documentary) (1950)
Cronica di un amore (1950)
L'Amorosa menzogna (documentary) (1949)
Bomarzo (documentary) (1949)
Ragazze in bianco (documentary) (1949)
Sette canne, un vestito (documentary) (1949)
Superstizione (documentary) (1949)
Nettezza urbana (documentary) (1948)
Oltre l'oblio (documentary) (1948)
Roma-Montevideo (documentary) (1948)
Gente del Po (documentary) (1943)