Ingmar Bergman
14.07.1918, Uppsala, Švedska - 30.07.2007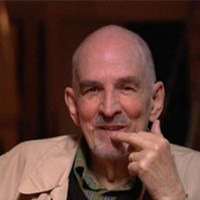 Ernest Ingmar Bergman was born on July 14th, 1918 in Uppsal Sweden. Already from an early age he showed great interest in literature, theatre and art. He studied literature and art history at the University in Stockholm. During his studies he joined a theatrical troupe first as a director, and then as a dramaturge. His began his film career as a stage designer for the famous producing house Svensk Filmindustri. His first filmed screenplay,
Frenzy
(Hets, 1944), was directed by famous Swedish director Alf Sjöberg. For ten years he worked as a stage director and producer, while at the same time staging his own plays. The film
Chrisis
(Kris, 1945) was his directorial debut, but with The Sevents Seal he caught the attention of the international critics and intellectual viewers. He won three Oscars.
He was one of few directors who had an almost absolute creative freedom, refusing any sort of compromise imposed by commercial production.
In 1988 he published his autobiography
Laterna Magica
. Ingmar Bergman is one of the greatest authors in the history of film.
Filmography
Anna (TV film) (2002)
Bildmakarna (TV film) (2000)
Larmar och gör sig till (TV film)(1997)
Sista skriket (TV film) (1995)
Backanterna (TV film) (1993)
Markisinnan de Sade (TV film)(1992)
Dokument Fanny och Alexander (dok. film) (1986)
Karins ansikte (1986)
De Tvĺ saliga (TV film) (1986)
Efter repetitionen (TV film) (1984)
Hustruskolan (TV film) (1983)
Fanny och Alexander (1982)
Aus dem Leben der Marionetten (1980)
Fĺrö-dokument 1979 (dok. film) (1979)
Höstsonaten (1978)
The Serpent's Egg (1977)
Ansikte mot ansikte (1976)
Trollflöjten (1975)
Misantropen (TV film) (1974)
Scener ur ett äktenskap (1973)
Viskningar och rop (1972)
Beröringen (1971)
Fĺrödokument 1969 (dok. film) (1969)
En Passion (1969)
Riten (TV film)(1969)
Skammen (1968)
Vargtimmen (1968)
Stimulantia (1967)
Persona (1966)
För att inte tala om alla dessa kvinnor (1964)
Tystnaden (1963)
Nattvardsgästerna (1963)
Ett Drömspel (TV film) (1963)
Sĺsom i en spegel (1961)
Djävulens öga (1960)
Jungfrukällan (1960)
Oväder (TV film) (1960)
Ansiktet (1958)
Rabies (TV film) (1958)
Venetianskan (TV film)(1958)
Nära livet (1958)
Smultronstället (1957)
Herr Sleeman kommer (TV film) (1957)
Det sjunde inseglet, (1957)
Sommarnattens leende (1955)
Kvinnodröm (1955)
En Lektion i kärlek (1954)
Gycklarnas afton (1953)
Sommaren med Monika (1953)
Kvinnors väntan (1952)
Sommarlek (1951)
Sĺnt händer inte här (1950)
Till glädje (1950)
Törst (1949)
Fängelse (1949)
Hamnstad (1948)
Musik i mörker (1948)
Skepp till India land (1947)
Det regnar pĺ vĺr kärlek (1946)
Kris (1946)